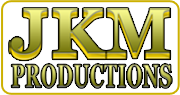 JKM Productions,LLC
2710 Kreider Road Lititz, PA 17543
Phone:717-569-4665
E-Mail:
SEE MORE WEDDING VIDEO SAMPLES HERE

WEDDING VIDEO SAMPLES
We are now booking for the 2018 - 2019 wedding season.
As of 2017 JKM Productions uses 4K Broadcast Digital Cameras.
We welcome you to call us at 717-569-4665 or e-mail us to make an appointment for a free consultation and to see a wedding in HD.
Please be patient while video loads. This may take a few seconds, depending on your internet connection.
The Ceremony was at Hamilton Presbyterian Church Baltimore MD and the reception was at Ripken Stadium in Aberdeen MD

Wedding video recap filmed at Saint Joan of Arc Catholic Church and reception was at Historic Acres of Hershey, PA

Highlight recap of the cremony and reception filmed at The Hotel Hershey

Ceremony and reception at the Toftrees Golf Resort in State College, PA

Wedding Video filmed at The Waterfall in Claymont, DE

Ceremony at St Fances Xavier Catholic Church and reception at the Gettysburg Hotel at The Farm at Eagles Ridge

We are excited to hear from you!
Contact Us Today!
Developed and Powered by JKM Productions LLC