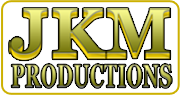 JKM Productions,LLC
2710 Kreider Road Lititz, PA 17543
Phone:717-569-4665
E-Mail:
WITH 30 YEARS OF EXPERIENCE IN THE WEDDING VIDEOGRAPHY AND PHOTOGRAPHY BUSINESS NO WONDER PEOPLE THINK HIGHLY OF US
We invite you to read our rave reviews provided by the Wedding Wire forum, and evaluate our performance and services from our past clients.

Hi Sandra,
We absolutely LOVE the video you and your husband put together for us. We are so impressed that we could watch the video every day! We apologize for not getting back to you sooner with how pleased we are. Everyone that has seen it so far is amazed at everything from the graphics to the editing to the sound. Getting a video of our wedding was worth every penny. We just convinced a Bride into really considering a video for her wedding. You may definitely use our video for your website, thanks for asking us.
Karen and Gregory

Our wedding video arrived in the mail today and I could barely contain myself until Kevin got home to watch it with me. Wow! It's just amazing, thank you!! You guys did a great job and Iam SO happy that we got a video now. Now if only the photographer would process things that quickly.... Thank you so much, we're really happy with it!
Lauren and Kevin

Wonderful, Beautiful, Grateful for such a terrific job! I was pleased with the clip you E-Mail me and last night I watched the full video... Before Susan and Dage saw it, what a Great Job! Susan and Dage will be pleased I am sure. They will see the video this weekend when they come up our way. I certainly would recommend your work to others.
Linda

Dear Sandy and John, We want to thank you so much for your expertise and filming our wedding. We have watched the video at least 20 times (everyone wants to see it). Every time we watch we see something new! Thanks again for all of your work and attention to detail.
Mark and Mar

Dear John,
I just wanted to let you know that I watched our video and it is absolutely wonderful. You both did a spectacular job. I can't thank you enough, it brought tears to my eyes. Thanks

"You have given me something that I will always treasure. The quality of your equipment and your talent, combine to make a fine product."
Michele

Dear Sandy and John:
Thank you again for doing Kim's wedding video We watched it over the weekend and it brought wonderful memories. You did a great job! Thanks again
Kay

Dear JKM, We could not be happier with our video. I have already watched it multiple times and could not be happier. If you need any references, we would be glad to help.
Justin and Chrystin
We are excited to hear from you!
Contact Us Today!
Developed and Powered by JKM Productions LLC