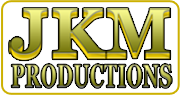 JKM Productions,LLC
2710 Kreider Road Lititz, PA 17543
Phone:717-569-4665
E-Mail:
SEE MORE WEDDING VIDEO SAMPLES ON PAGE 1
SEE MORE WEDDING VIDEO SAMPLES ON PAGE 2
SEE MORE WEDDING VIDEO SAMPLES ON PAGE 3
WEDDING VIDEO SAMPLES Page 3
We are now booking for the 2020 - 2021 wedding season.
As of 2017 JKM Productions uses 4K Broadcast Digital Cameras.
We welcome you to call us at 717-569-4665 or e-mail us to make an appointment for a free consultation and to see a wedding in HD.
Please be patient while video loads. This may take a few seconds, depending on your internet connection.
Wedding video recap filmed in Sylvania, Philadelphia

Ceremony and Reception filmed at the Eden Resort in Lancaster, PA

Highlight recap with love story of Alex and Leslie filmed at Elk Neck State Park, MD

Greek Wedding Video filmed in Harrisburg, PA

Wedding Video filmed at The Waterfall in Claymont, DE

Wedding Film at The Farm at Eagles Ridge

Ceremony and Reception at Lancaster Marriott at Penn Square in Lancaster PA

We are excited to hear from you!
Contact Us Today!
Developed and Powered by JKM Productions LLC